This web site is dedicated to the men and woman who like to ride. It doesn't matter what you ride but that you ride safe. I prefer Harley Davidson but I'm riding a 1980 CB750F, that will change hopefully by the summer. Well I like to start by saying, has anyone ever seen the first motorcycle, well here it is enjoy! And Also with spring in the near future a lot of people will be looking for a bike and a lot of bikes will go up for sale in the spring.

is a link I think you should see before you bye a used bike and especially if its your first bike. Here you'll find some interesting information on safety. Some of my favorite links, If you don't see yours send it to me. Check out the photo album for some interesting motorcycles and don't forget to check out the ladies as well. The beginner page will be getting a lot of attention, I will be changing subjects every few weeks so anyone who's interested in learning or refreshing your skills should stay tune, yes it is aimed at the beginner to hope to get them started on the right foot.

The First Motorcycle

In 1885 German engineer Gottlieb Daimler mounted an internal combustion engine of his own design into a wood-framed vehicle. The vehicle had four wheels, including two round stabilizing wheels (much like training wheels), which technically disqualify it as a bicycle. Nonetheless, historians consider Daimler's vehicle to be the world's first motorcycle. Daimler's son Paul became the first motorcyclist on November 10, 1885, when he rode his father's invention for nearly 10 km (6 mi).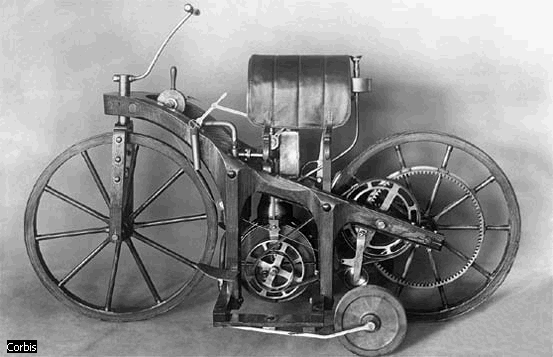 This page was last updated on 02/10/01.
You are visitor
Back